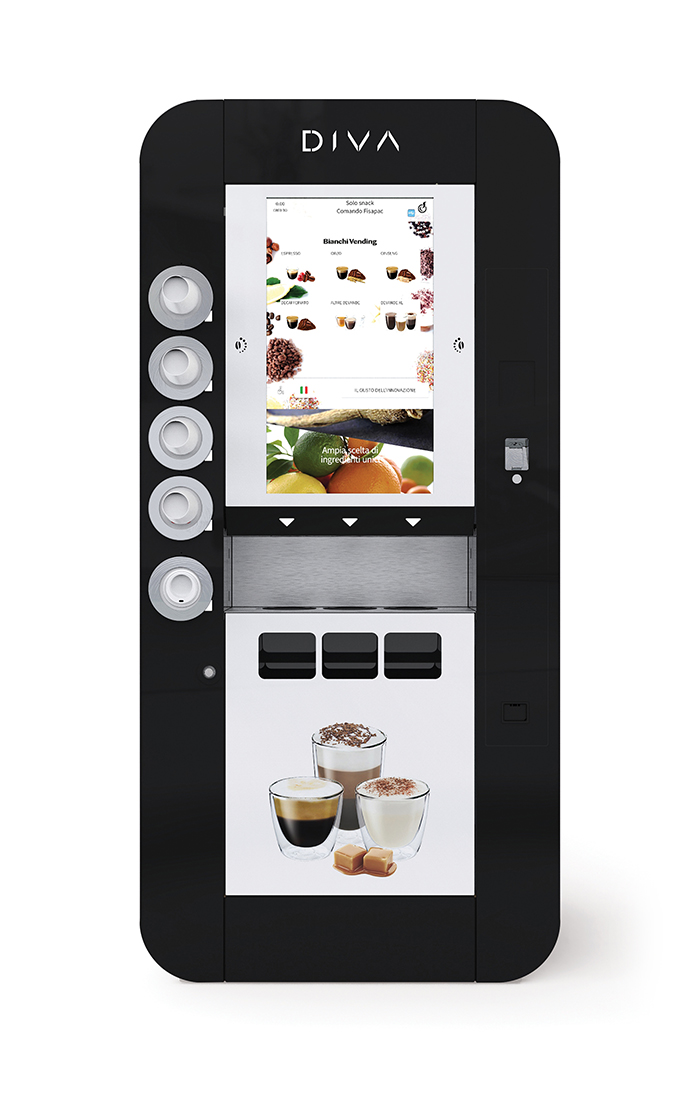 DIVA
INNOVATION HAS ITS OWN INTERPRETER.
DIVA is the most versatile and innovative coffee corner on the market: it fully meets consumers' extensive needs offering 350 combinations of different drinks and aromas, relying on a highly interactive and intuitive interface. With DIVA, consumers' tastes are turned into real recipes for delicious drinks, thanks to a guided system that allow to create customized drinks. Versatility and a complete offer make DIVA the leading actress of the vending sector.
Move up a level by promoting new ways to consume and offering more choices.
Enjoy a dynamic drinking experience with the practical lids, sip high-quality beverages like tea in a bag, and enjoy a fancier break with the mini-snacks.
Technical information
Touch: 32" touchscreen monitor FULL HD also for multimedia contents reproduction.
Manual cup dispenser for different sizes from 70 to 80 Ø mm, provided with flashing LED to guide the user in choosing the right cup.
Manual lid dispenser.
Cup station with lift to adjust the cup position according to the cup size; this leads to better results in the cup.
Cup sensor for cup positioning and size.
Door divided compartment for accessories (sugar, stirrers, holders...).