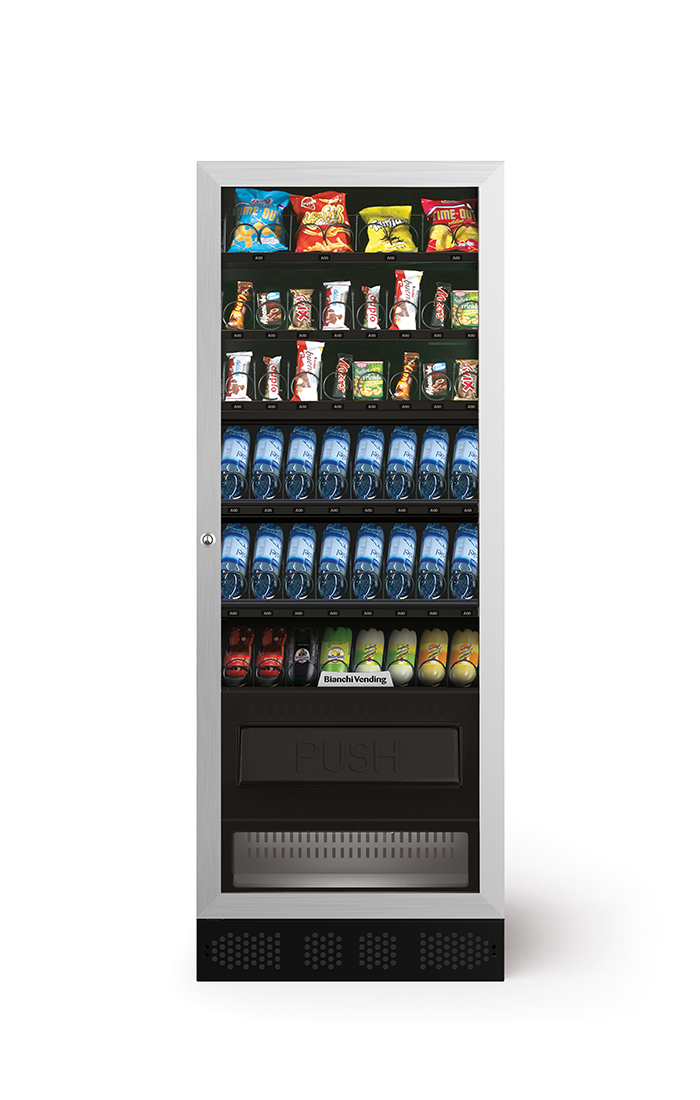 PRODUCT SENSOR
Sensor that detects the dropping of the product from the spiral, allowing a new command in the event the product fails to drop.
LOW VOLTAGE LIGHTING
LED technology improves efficiency, reduces consumption and guarantees aesthetically pleasing and functional lighting.
ENERGY SAVING MODE
Device for programming time bands when boiler temperature is lowered and energy consumption reduced.
REFRIGERATION
The refrigeration unit of food models guarantees maintenance of 3°C so that many different perishable foods can be stored correctly.
ARIA L EVO, automatic spiral refrigerated vending machine for the sale of snacks, cans & bottles, sandwiches, yogurts and other fresh perishable foodstuffs.
USER INTERFACE
Elegant design with the door frame in anodized aluminum.
Spacious dispensing compartment for large products, with transparent window and lighting to highlight the delivered product.
Great versatility of configurations that allows multiple combinations, able to satisfy the different sales requests for a wide range of products.
MASTER MODELS
Illuminated alphanumeric selection keypad with 12 push buttons.
Wide 3.5" TFT LCD customisable colour display.
Refund coin introduction and refund system standard.
SLAVE MODELS
Slave version works together with a hot drinks or snack&food master machine, with a single payment system.
Alphanumeric keypad selection is on the master machine.
GENERAL FEATURES
From 6 to 7 trays, 8 spirals.
The 2 lower product trays can be used for selling food products with a temperature of 3°C (max 4°C).
Kit supplied with 8 product holders and 1 bottle stop.
Dispenser insulation made using a material with a high thermal insulation coefficient.
Large window illuminated by white LED bars made with tempered glass, enabling the products to be displayed optimally.
Window with anti-condensation resistance.
Adjustable tray layout: 7.5 mm pitch between the fixing holes of the tray guides for a more flexible internal configuration.
Anti-theft product delivery door.
Products drop sensor.
Version with electronic tags for displaying prices, descriptions and promotions.